SkiWelt Wilder Kaiser-Brixental
An Overview of the SkiWelt WilderKaiser - Brixental:
279 Kilometers of Ski Runs
(124km Blue Runs; 128km Red Runs; 11km Black Runs)
91 Cablecars & Lifts
70 Refreshment Stops
For your convenience, we can pre-purchase your ski passes for you and they will be waiting for you at check-in.
To avail of this service just let us know how many passes you require, and, if there are teenagers or children in your Group, their dates of birth.  We respectfully ask you to reimburse us in cash for the passes upon check-in.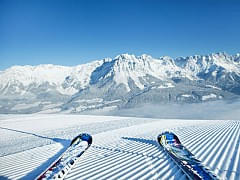 Here are the prices for the ski passes!